Facials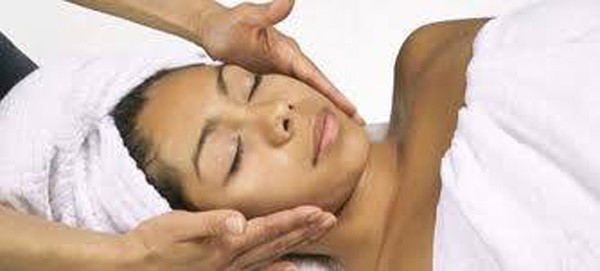 Amore's Radiance Facial
30 min. $40.00
60 min. $75.00
( 30 min Facials does NOT include extractions)

.
This traditional European facial will purify and rejuvenate all skin types. Your esthetician will analyze your skin, followed by cleansing, steam therapy, relaxing massage, extraction, gentle exfoliation, and the application of a masque customized for your skin type.
Deep Pore Cleansing Facial w/Rotary Brush
60 min.$85.00

Enjoy a tailored facial with exfoliating treatments and deep cleansing to help decrease congestion,breakouts and help promote healthy skin.
Ultra Sensitive w/Cool Stones
30 min. $ 45.00
60 min. $80 .00
( 30 min Facials does NOT include extractions)
This ultra calming treatment is relief for sensitized skin that calms, soothes and replenishes the most aggravated, irritated, inflamed skin. By targeting the triggers behind redness, itching and stinging, this treatment will help recover skin health for long-term relief from flare-ups
Organic AHA Fruit Peel
35 min-$60.00
65 min-$95.00
( 30 min Facials does NOT include extractions)
This AHA Fruit Peel is formulated with gentle yet powerful natural fruit acids to dissolve dead and dull skin cells and reveal a smooth, radiant complexion. AHA Fruit Peel exfoliates the skin for a more rejuvenated appearance. Lactic acid removes dead skin cell build-up to refine the texture of the skin for a smoother appearance. Lemon oil acts as a natural toner to balance oil production. Naseberry fruit enzymes improves skin tone helping diminish age spots, blotches, chloasma and other blemishes

Peel Renewal Facial
30 min.$ 55.00
60 min. $ 95.00
( 30 min Facials does NOT include extractions)
Reveal tighter, smoother, more evenly pigmented skin. This advanced clinical skin rejuvenation treatment aids in reversing damaged skin due to factors such as aging, sun exposure and acne.
Designed to soften fine lines, evens out skin tone and boosts cell renewal.
MicroDermabrasion Includes Face,Neck &Decollete
30 min. $50.00
60 min.$90.00
( 30 min Facials does NOT include extractions)
Microdermabrasion services employ gentle abrasion to exfoliate and remove the dead outer layers of skin clean your pores and give you smooth and beautiful skin. Will help eliminate fine lines,wrinkles,sun damage,enlarged pores, discoloration and more.
Double Duo Micro/Peel
35 min.$80.00
65 min.$120.00
( 30 min Facials does NOT include extractions)
Fight back with this highly regenerating corrective treatment ideal for devitalized, mature skin. This facial delivers visible results with cutting edge ingredients such as glycolic acid to resurface the skin and cutting edge technology to plump and rejuvenate skin tone.
Purifying Back Facial
30 min.$ 40.00
60 min. $75.00
( 30 min Facials does NOT include extractions)
The face is not the only place in need of love and attention! This is a deep cleansing back facial is designed to clean out the pores, and help eliminate acne from the back. This treatment deep cleansing, exfoliation, extractions, light back massage and custom masque.
Warm/Cool Stone Therapy Facial
35 min. $55.00
65 min.$90.00
( 30 min Facials does NOT include extractions)
Is one of the most soothing and effective facial treatments - it rapidly stimulates circulation by moving lymph and eliminating toxins, while supplying facial tissue with oxygen and nutrients - leaving you with a vibrant and radiant complexion.

A deeply relaxing, yet stimulating facial treatment with the added benefit of sinus decongestion. The heightened sensory awareness of this facial massage, using the hot basalt stones and then the cold marble stones, is wonderful.
Hot and Cold - hydrated and toned skin.
Amore's Ultimate Luxury Facial Package
2 hours.
$185.00
2 hours of just pure pampering! Includes a 30 minute Purifying Back Facial,Full Skin Renewal Facial, Microdermabrasion, Vita C Renewal Peel Mask, Chemical Peel,Warm and Cool Stone Therapy, Paraffin Hand &Foot Wrap Treatment and Tea Snack with Herbal Tea.
Warm Green & White Jade Stone Facial
30 min. $60
60 min. $110
(40 minute facial does not include extractions)
**ALL Jade Stone Facials also include Jade Stone Facial Roller**
Jade, considered the health, wealth and longevity stone, is an ancient stone known for a number of different healing advantages. The warm temperature of the Jade stones help the body relax, giving the body energy. Jade assists the kidney and liver in boosting the removal of toxins and excess fluids (inflammation) in one's body which in turn can reduce the frequency and severity of cramps. Regular use of Jade stones can also improve bone and joint ailments, especially in the hips. Jade Stone = Self Healing Stone
Return to Top
Please call (845)787-4296 or email amore_dayspa@yahoo.com for our appointment policies.